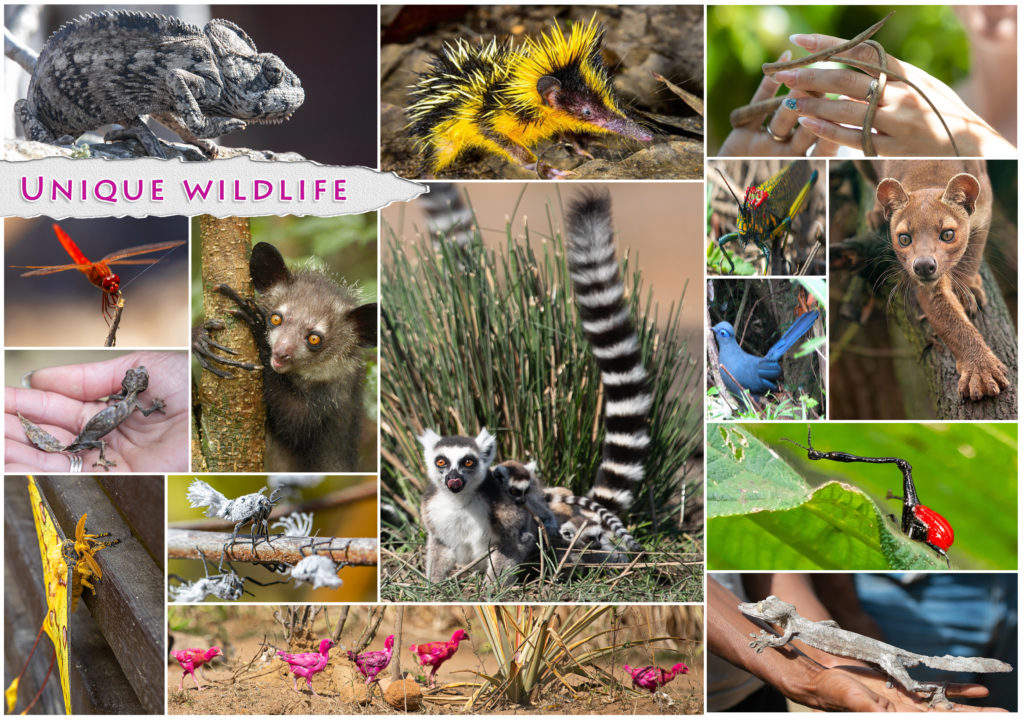 1. Unique wildlife
Although Madagascar is a small island compared to Earth, 5% of the animals and plants in the world can be found here, and in fact 4 out of every 5 species live only here in natural conditions.
This is called endemic in the literature, meaning it is only on the island, nowhere else.
A real paradise for nature and animal lovers, just to name a few: more than 100 mammal species live here, about 250 species of birds and it seems incredible, but is home to about 500 species of reptiles and amphibiants. We find 12,000 flowering plant species on the island, among them more than 1000 different orchids.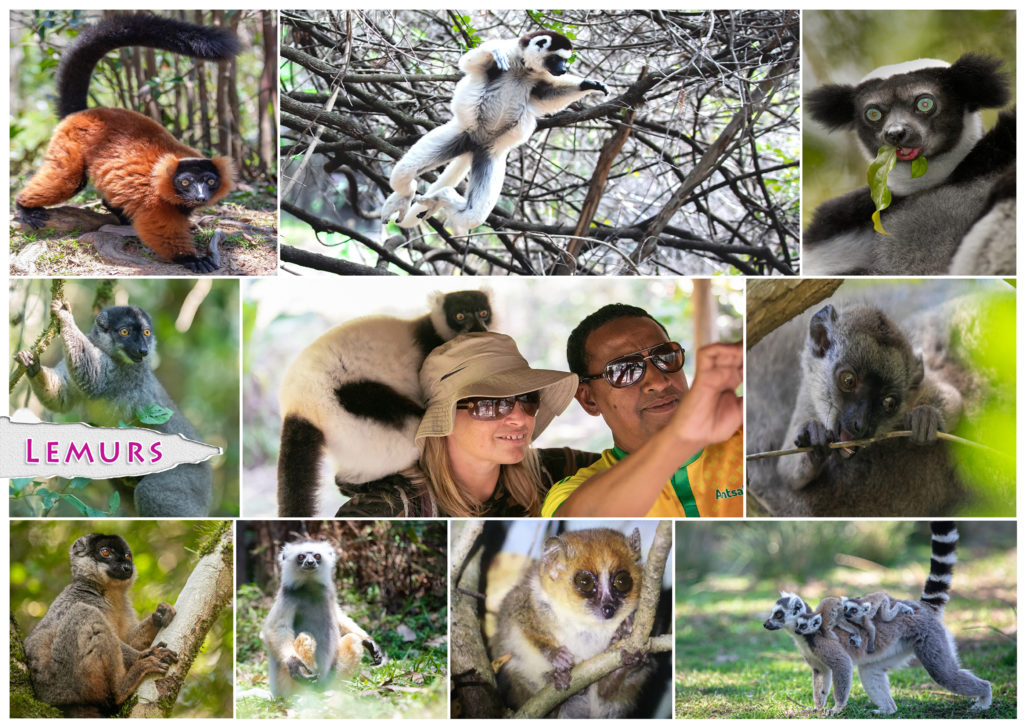 2. Lemurs
The lemurs are probably Madagascar's most famous mammals – not in vain, because they originally exist exclusively here and nowhere else in the world. There are a little more than hundred different species on the island. It is a unique and incredible experience to meet and see the animals in their natural forefront, the sound of the indris can be heard from up to 4 km away.
When we look at tourist photos, most of the time black and white ring-tailed lemurs smile back. They are very friendly so visitors can take photos with them because they are no longer afraid of people. 
On night tours with a flashlight in our hands we can also see dwarf mouse monkeys.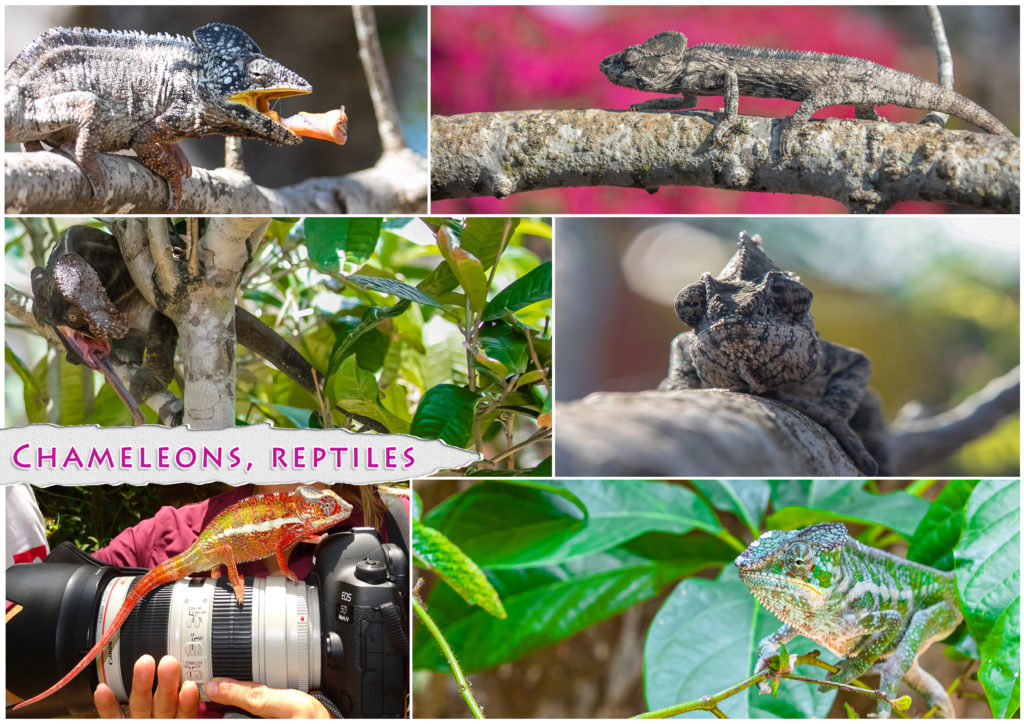 3. Chameleons
Madagascar is a reptile paradise, but it is surprising that no venomous snake lives here.
The most popular of the reptiles are the chameleons. There are 217 species in the world, 96 of which occur only in Madagascar – nowhere else. 
With their strapped tongue, their eyes, which they can move 342 degrees independently of each other, their hands and feet transformed into gripping pliers, and the vast variety of colors, they look like real mythical creatures.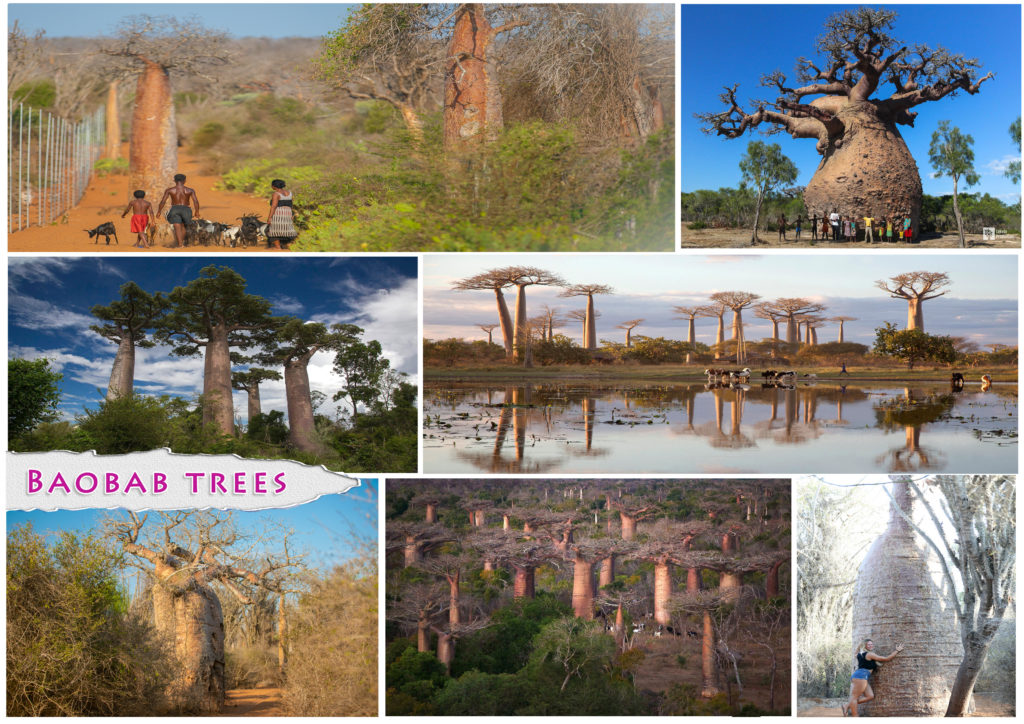 4. Baobab trees
There are a total of 8 baobab species on Earth, 7 of which are found only in Madagascar.
The special plant, known mainly as the monkey bread tree in Hungary, can grow up to 30 meters. Such a tall tree is wide enough, there are places where it would take 7 people to hug it.
The oldest trees are almost a thousand years old. They survive the hot summer drought because they can also store 100-120l of water in their trunk.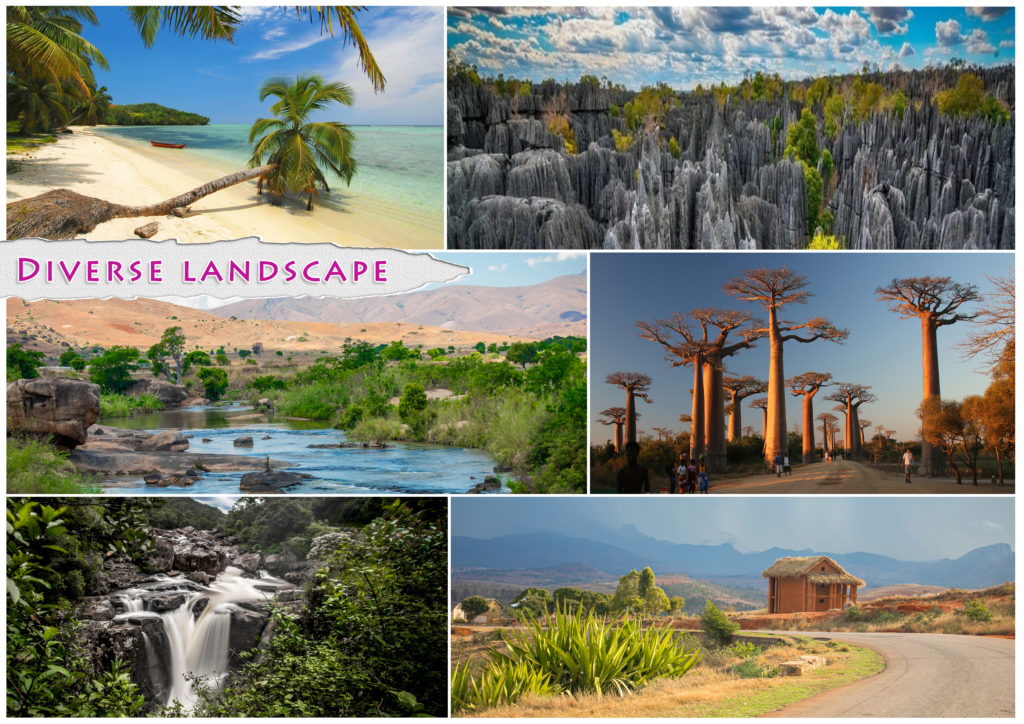 5. Diverse landscape
The palette of nature is unique…. here you will find forests, jungles, deserts, swamps, lagoons, dense forests, needle-shaped rock formations (stone forests) terraced rice fields and wonderful beaches.
The needle-shaped rock formations of the "stone forest" of Tsingy National Park are beyond dispute one of the outstanding geological features of Madagascar, resulting from the gradual erosion of groundwater over millennia. The name Tsingy means "where you can't walk barefoot" – but high heels are not recommended either!  
There are national parks in all parts of the country, several of which are already UNESCO World Heritage Sites.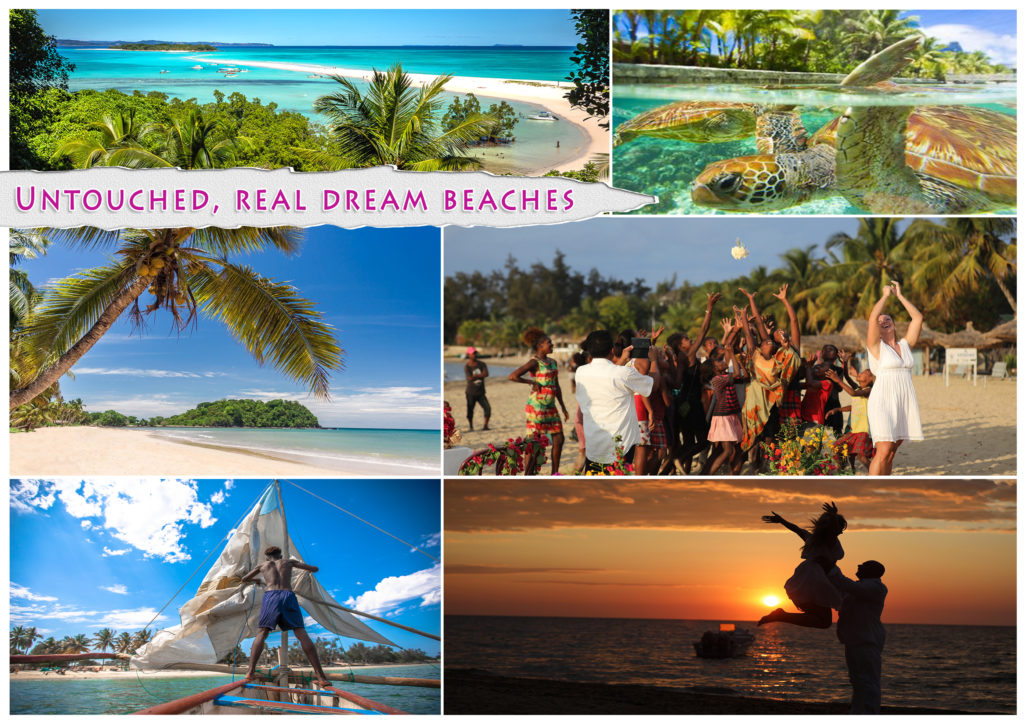 6. Untouched, real dream beaches
Madagascar's coastline is about 5,000 km long – most of which are beaches.
In addition to the main island, we have many small paradise islands in the ocean with white sandy beaches, palm trees and turquoise sea – which is not only the perfect resort but also a perfect venue for weddings and honeymoons.
Nosy Be is the trademark of Madagascar, if we talk about beaches, the luxury beaches of the island can be found here.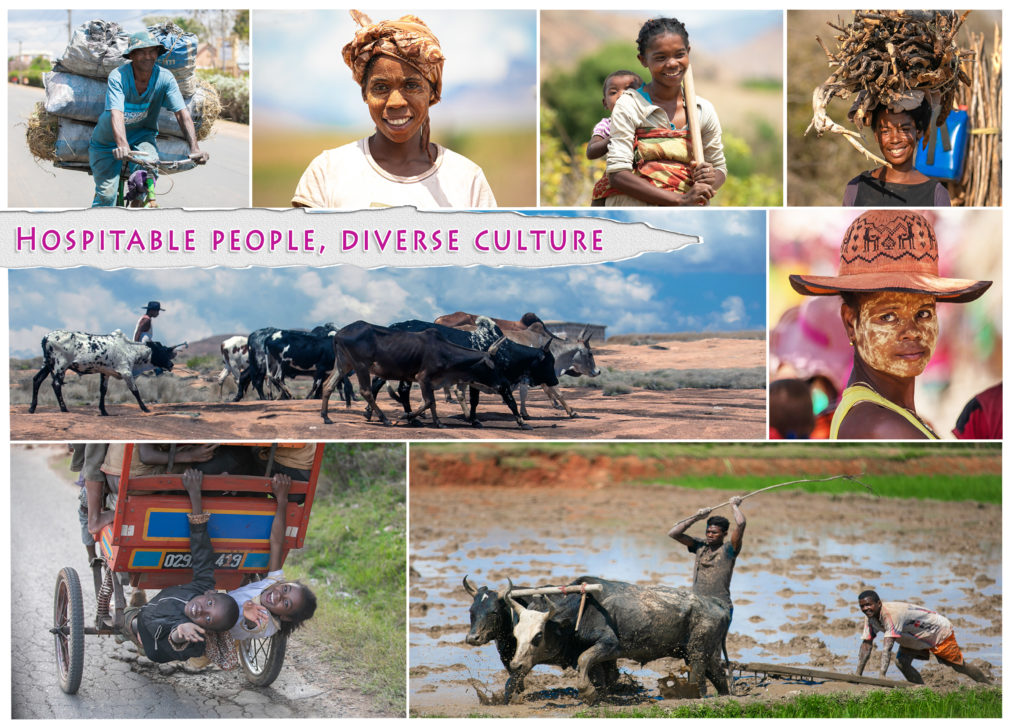 7. Hospitable people, diverse culture
This mysterious country lies between Africa and Asia: Madagascar is both interesting and attractive. 18 ethnic groups have a common language (although there are certain dialects) and are home to a rich and diverse culture.
We can distinguish different ethnic groups according to their hairstyle, clothing, housing, art, folklore, cuisine, religion and traditions.
Despite these differences, the country's common ancestors, the love of rice, and Zebu, the common culture links the people, where everyone is very hospitable and welcomes travelers.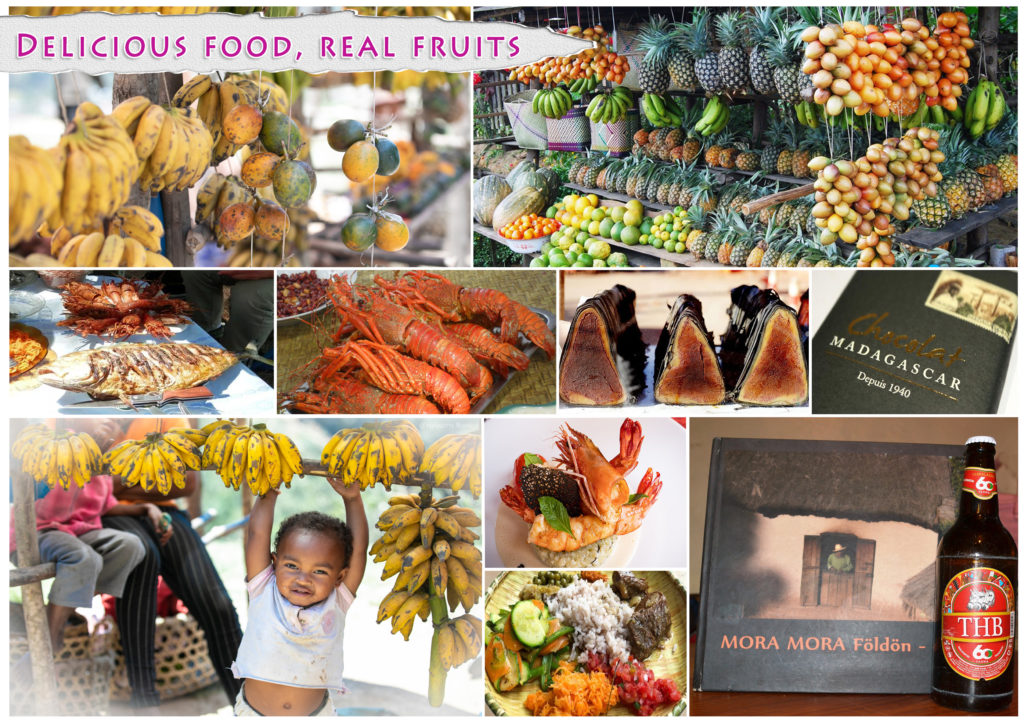 8. Delicious food, real fruits
Madagascar offers a variety of delicious specialties that are a must-try.
Koba is a real Malagasy cake made from  hazelnuts and rice flour. We can't come home without tasting zebu, lobster, crawfish and freshly caught fish on the beaches, the famous coconut rice and the real, sun-ripened, juicy fruits.
But let's not forget about the famous three horse beer, which is called THB for short and the variety of Malagasy rum either.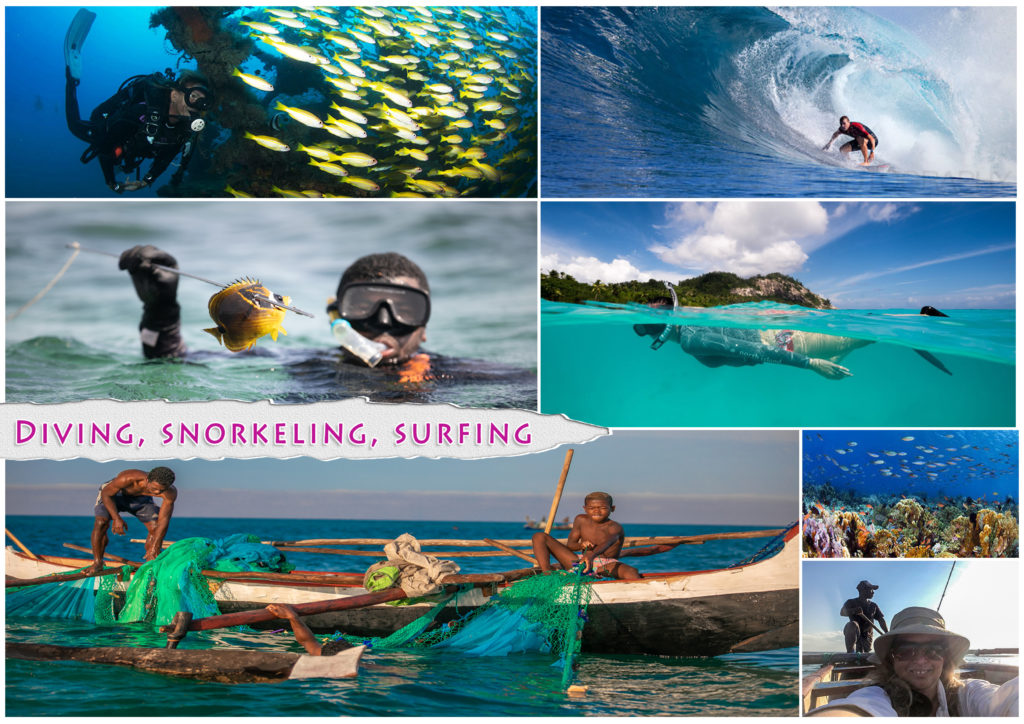 9. Diving, snorkeling, surfing
The island offers numerous cruises, some of which also provide an opportunity to get to know the sea life in diving suit.
Those who are not professional or do not like to dive really deep can also watch the fish and coral reefs in amazement, as most of Madagascar's beaches offer outstanding snorkeling opportunities. In addition, these coral reefs are often located in shallow waters near the shore
For lovers of surfing, this region is a real gold mine, as the wind always blows pleasantly from the ocean.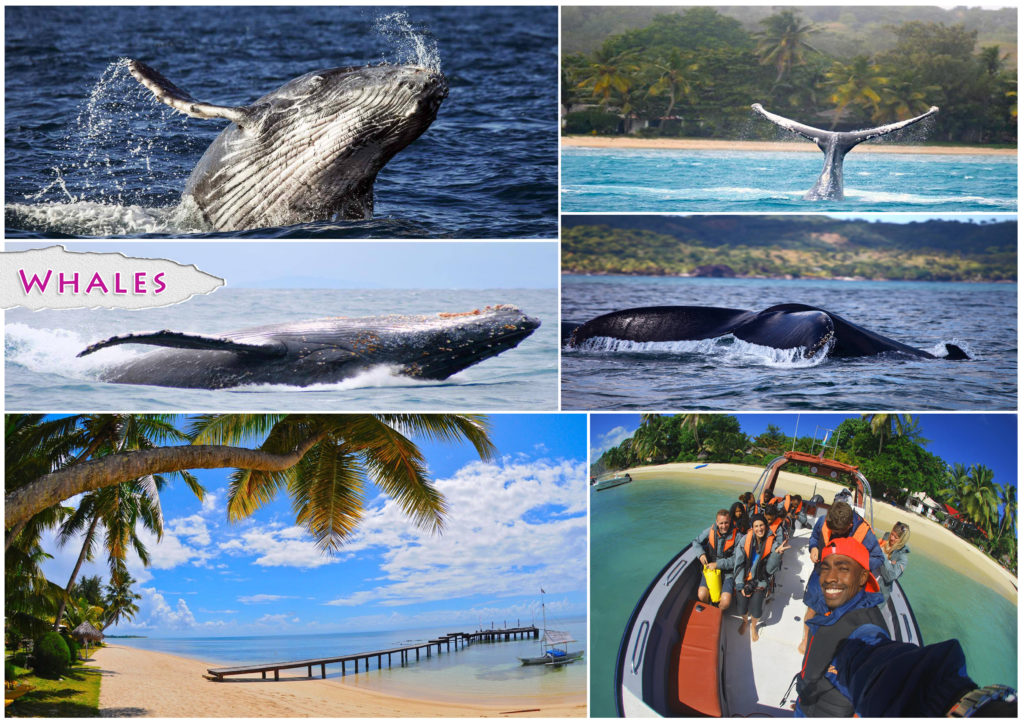 10. Whales
Madagascar is very fortunate to be close to the whale migration route, but it does not happpen every day of the year. We need to be in the right place at the right time, trusting in our luck as well.
From July to September, the most suitable place for this is the island of Sainte-Marie. You can also see the migration from the shore, but whoever wants to can get even closer to these giant mammals by boat.
From October to December, we can admire whales on the island of Nosy Be in the northwestern part of the island, now with their little ones.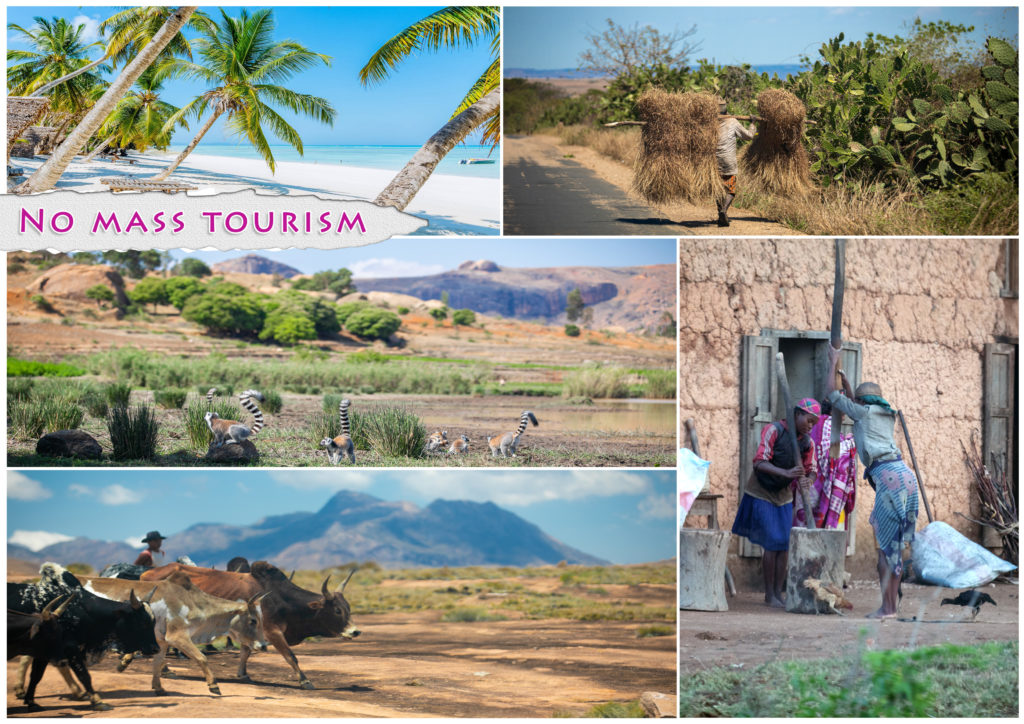 11. No mass tourism
Despite its breathtaking landscapes and extraordinary biodiversity, mass tourism has not yet emerged, this  is why Madagascar is special compared to other countries.
Here we certainly do not run into the neighbor Aunt Mariska…we can sunbathe on the dream beaches and admire the special, unique wildlife in the rainforests.
In addition, part of our tour can even be considered a time travel, as we can gain an insight into the everyday lives of the natives, which is becoming less and less possible in the popular tourist paradises.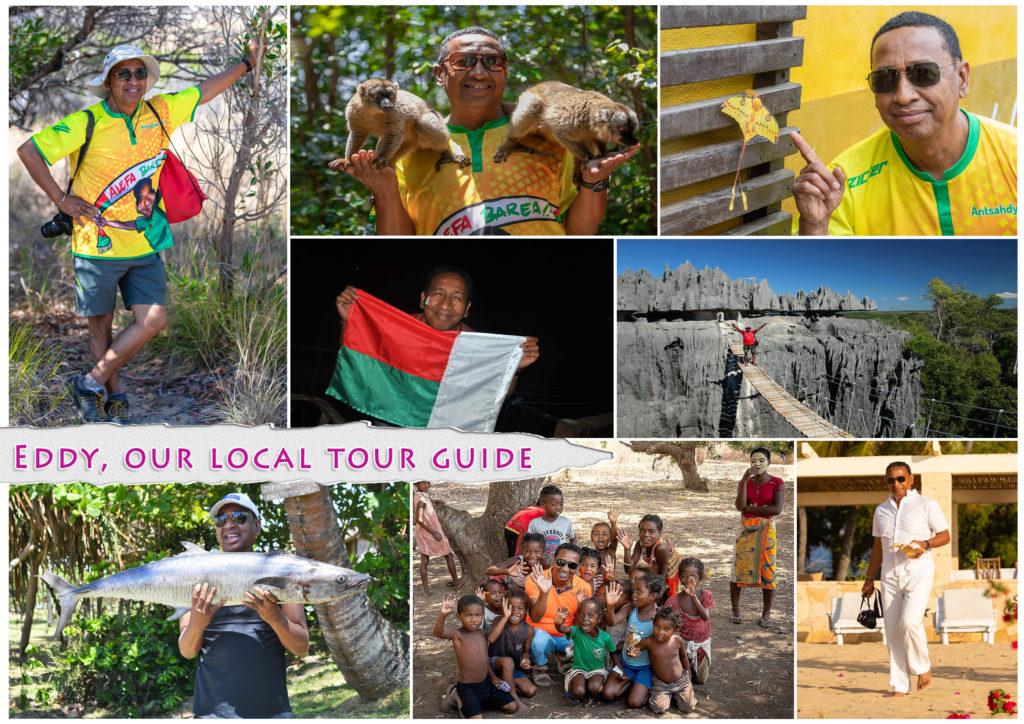 11. + 1 Eddy, our local tour guide
Only those who have lived with us for a while really know what we Hungarians need. Whoever has learned our language knows even more about us, as he knows our habits and what we are like. What's more, in Africa, you can only succeed if you know everything about how things work there. That is why for us Hungarians Eddy is a huge TREASURE, as he was born in Madagascar, but graduated in Budapest and speaks our language perfectly.
He has been running a travel agency and organizing various tours for 14 years.
The Hungarians who spent their time with him all fell in love right away and many of them keep in touch with him to this day.
Their favorite slogan is Mora-Mora… which means to relax or stay calm …. No one is in a hurry here, but everything is resolved.