The Unknown North – Eddy recommends this from June to December
Recommended route: Ankarana, Montagne d'Ambre, Tsingy rouges, Antsiranana beach – ideally at least 10 days
Nosy Be, is an archipelago north of the main island of Treasure Island – Madagascar. We are talking about one of the most beautiful archipelagos in the world, which was chosen as the most beautiful ISLAND IN THE WORLD in 2015 by the world's leading Tripadvisor!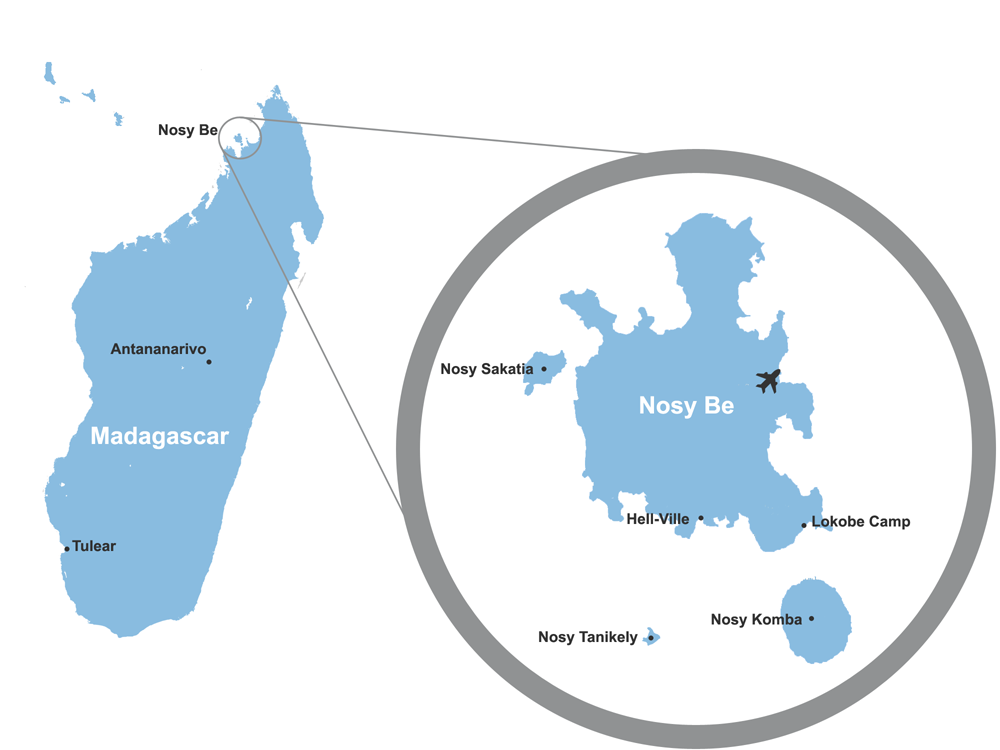 We recommend Nosy Be to lovers of water. This is a typical "wet" holiday destination, recommended for those who love water sports, catamaran, boat tours, as some of the optional programs (different islands) can only be approached by water!
Nosy Be is a huge experience for both light and bottle divers, we can even meet sea turtles, manta rays and whale sharks snorkelling in some parts of the year!
Upon check-in at Nosy Be Airport, a traveler can obtain a visa for EUR 30 upon check-in.
The ocean is very warm all year round, 26 degrees from July to October. Due to cyclones and other climatic factors, it is best to travel to Nosy Be from mid-May to October.  
While waiting for your flight ticket, we recommend the following for travelers to Nosy Be!
we recommend traveling from Budapest or Vienna (the flight from the latter airport is usually cheaper) with Ethiopian Airlines, with a transfer in Addis Ababa
A holiday on the island of Nosy Be before or after the trip can be extended with a southern island tour of Madagascar, for example (+ plus 6-8 days), in this case, for example, Vienna-Antananarivo; Antananrivo- Nosy Be (Air Madagascar); We recommend the Nosy Be- Vienna route
In addition to the island, there are other places to see in the area
Rich tropical forest, waterfalls, various bays, Montagne d'Ambre National Park, Ankarana National Park Discover: forest, lakes, Tsingy, sacred caves… simply a paradise for nature lovers, an atypical fauna such as lemurs, bats, giant spiders and different species of endemic birds can be found.
We also recommend a visit to the «Tsingy Rouges» or the «red karst formation» as it is only located here in this region.
ON A DETAILED PROGRAM BASED ON EDDY'S PROPOSAL:
NORTH 10 DAY TOUR – MONTAGNE D'AMBRE AND ANKARANA NATIONAL PARK – TSINGY ROUGE – NOSY
Program overview:
Day 1: Arrival in Antananarivo
Day 2: Antananarivo – Antsiranana (flight)
Day 3: Antsiranana (Diego Suarez)
Day 4: Montagne d'Ambre National Park
Day 5: Ankarana National Park, Tsingy, Red Tsingy
6-9. day: Nosy Be
Day 10: Nosy Be – Addis Ababa / Antananarivo – Vienna / Budapest (flight)
Day 1:   Arrival in Antananarivo  
No wonder Madagascar is referred to as the eighth continent, the diversity of landscapes, cultures, fauna and flora on the island is impressive. Endemic animal and plant species, varied gastronomy with food specialties made from zebu meat, traditional culture! Travel, arrival at Iowa International Airport. Obtaining a visa, transfer to the hotel. 
Day 2:  Antananarivo – Antsiranana (Diego-Suarez) (flight)
After breakfast, we head to the airport and travel to Diego Suarez, one of the largest bays in the world. Upon arrival we get to know the city, the atmosphere of the city, we can best do it on foot. We marvel at the buildings of colonial times, we look at the vendors, the market.
The economic situation and inhabitants of a country can be found out the fastest in the local markets and the fastest, most accurate picture of it can be obtained.
Day 3:  Antsiranana (Diego-Suarez)
Visit to Diego and Antsiranana. Today we are going on a boat trip (departure time depending on the tide). Leaving Antsiranana, we head towards the village of Ramena. Along the way, we admire the view of Sugar Cap Island, the massifs of the French Mountains and baobab trees.
We board a boat and sail to the "Emerald Sea" at the entrance to the bay. The Emerald Sea is a natural shallow water lagoon like an aquarium. The shallow turquoise sea offers excellent opportunities for snorkelling.
Day 4:   Montagne d'Ambre National Park
After breakfast departure to Montagne d'Ambre National Park (40km). We go on a full day tour of the Montagne d'Ambre National Park. We are greeted by lush tropical rainforest on volcanic soil. It is home to 7 species of lemurs, 1000 species of plants and 5 crater lakes and many waterfalls.   
We hike into this paradise on earth, discovering special plants and animals, hoping we can get as much and special as possible for lentils. 
Day 5:  Montagne d'Ambre – Ankarana National Park
Visit to Montagne d'Ambre National Park with a local guide. Not only native animals like lemur, chameleon, frogs can be seen in this rich tropical forest, but also dedicated waterfalls.
We need to set off early today to complete our day-to-day program in full. Madagascar, we visit Tsingy , its most special places . we visit the Red Tsingy first .
Nature has created amazing shapes from red sandstone, the various shades of red make tsingyk even more interesting and spectacular. world.
Our next destination is Ankarana Tsingy, this is the second place where this karst formation exists in Madagascar, limestone peaks, needle caves, canyons and of course lemurs, birds make up this special world.
Day 6: Ankarana – Ankify – Nosy Be
After breakfast we leave for Ankify. We pass by cocoa, coffee and ylang-ylang plantations and even stop to get acquainted with these special exotic plants.
Arriving in Ankify, we board a boat in the harbor and sail over to the island of Nosy Be.
Day 7-9.  Nosy Be
Wake up whenever you want, have breakfast in comfort: you can tailor these days to everyone's liking and needs, we don't have an organized program.
If we wish, we simply lie out on the oceanfront, listen to the soothing, eternal endless murmur of the waves, and watch the calm, centuries-old routine movement of fishermen. But if you want a more active program, you can still choose from a wide range of activities offered and organized locally.  
Day 10:   Travel home with a touch of Addis Ababa or Antananarivo
If we have some time left before the transfer, it is still a free program today, but it is worth going on a little excursion, you can also choose from catamaran boat trips, snorkeling, swimming and countless organized program options.
If you got interested in the program, please contact Eddy.

Antsahdy Tours / Eddy Raharolahy
Phone: +261 34 29 490 37 / +261 33 11 746 34
Email: eddy.raharo@moov.mg / madagaszkarutazas@gmail.com
You can also find us on Facebook and send a messenger message.