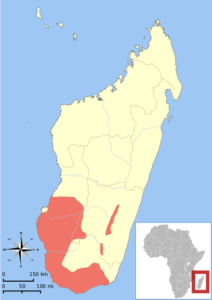 Ring-tail lemur geographic range in Madagascar.
Ring-tailed lemurs are found in the wild only on the geographically isolated African island of Madagascar, along with other lemur species and animals found nowhere else on earth.
They are far more ecologically flexible than other lemur species and can tolerate a variety of extreme environments and drastic temperature ranges.
 Their diverse range of habitat includes deciduous forests to arid bush forests, rocky outcrop vegetation, spiny forests, and rock canyons.
However, the preferred habitats of these cat-like primates are the gallery forests and Euphorbia bush of southern Madagascar.
What does it mean ?
Euphorbia bush: 
Tree-like flowering plants with a milky, white, caustic sap. Similar in appearance to cactus plants
Gallery forest: 
A forest that serves as a corridor along rivers or wetlands and projects into landscapes that are otherwise sparsely treed, such as savannas, grasslands, or deserts.